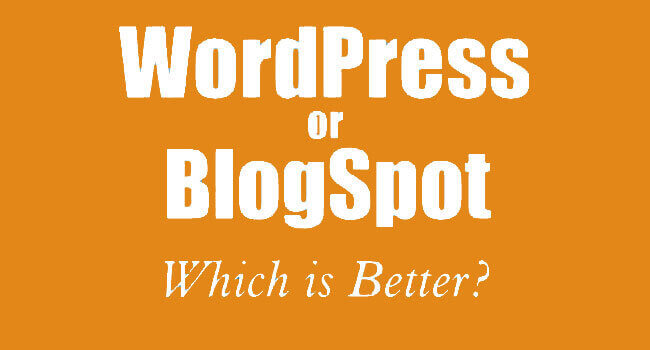 When it comes to blogging, we have plenty of options such as WordPress, BlogSpot, Tumblr to name a few. One of the most talked topic here is WordPress or Blogger for blogging.
This gets pretty confusing at time, as many users like BlogSpot because of less tech hassles, and many users love WordPress, because of more power and features. When someone ask me, which platform I should start with, here is my answer:
My recommendation is always start with WordPress.com for a month, and once you get accustomed with blogging, you should start a new blog on Self hosted WordPress platform.
You are free to use Blogger.com, as your launchpad blogging platform, but don't stick to it for too long.
I could say that, because I started my blogging life with BlogSpot, and later moved to WordPress.org. It was a hell lot of learning experience back then, but now learning WordPress is quite easy with the help of videos.
Anyways, in this article I will share a quick comparison of WordPress vs BlogSpot, and would explain under what condition which platform you should choose.
Why and why not Blogger:
Blogger or BlogSpot platform is very useful, when you just want to start a blog to share your thoughts. When you are not blogging for money, or you need a platform which doesn't require any technical know-how, BlogSpot is really good.
There are many limitations of BlogSpot in terms of functionalities, SEO benefit, but overall if you just need a platform to start a blog with almost 0 cost, BlogSpot is the right pick.
At the same time, if you are blogging for money, fame or for branding yourself, BlogSpot is not the ideas choice. Reason being, you have limited control on visibility in search engines, and after a while, you are limited with adding new features.
I have read it many times, that Blogger is Google product, and it gives more SEO advantages, and it's a pure rumour. It doesn't matter if you are using WordPress, Blogger,Drupal or any other platform, SEO is decided by how you configure your complete site for search engines.
In Blogger platform, we have limited control, and despite of the fact, they added new SEO features, BlogSpot still lacks in SEO optimization.
In nutshell, Blogger platform is better than WordPress, when you are creating a blog, for your passion, and you are ok with the limited features offered by Blogger platform.
Why and why not WordPress:
WordPress gives you complete control on your blog, and you could technically do anything you like.
You get complete control on the SEO, you host your own files, you can add SEO plugins, which will help to make your blog more SEO friendly. Moreover, you can always add latest SEO techniques like start rating using a plugin such as Rich Snippets.
WordPress will let you do everything you wanted, but at the same time you need to manage your own blog. You need to install WordPress on your server, and maintain your blog.
It may sound technical, but with such an amazing support from WordPress community, you can always learn everything in no-time. Infact, if you stumble on ShoutMeLoud WordPress guide, most of your queries regarding WordPress, will be answered. Getting started with WordPress may require some effort, in terms of watching videos, learninghow to add a plugin, getting use to dashboard, but is in't the similar thing we learned on Blogger?
If you are planning to create a blog, with mindset of making it popular, making money from it, you should prefer self hosted WordPress blog. If you are an occasional writer, or a hobby-blogger, BlogSpot is the best pick for you.