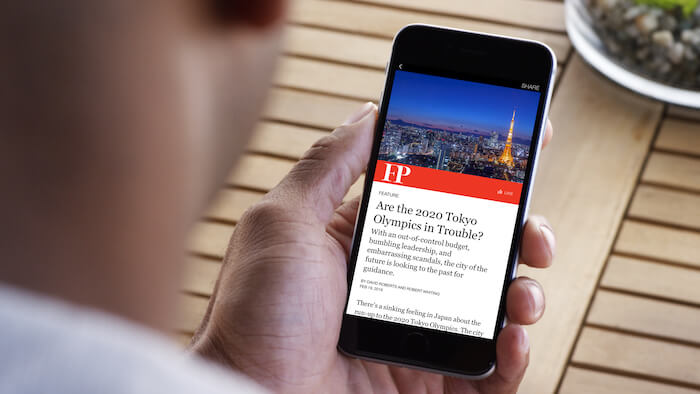 The plugin creates a special RSS feed that automatically optimizes posts to appear as Instant Articles. The plugin is open-source and customizable. Its documentation is available on Github.
Facebook said it worked with "a small group of publishers" that run on WordPress, including Foreign Policy and Tribune Media's Zap2it, to test the plugin.
In a blog post, Facebook noted how the plugin formatted this Foreign Policy story for Instant Articles:
For example, the plugin recognizes the image found in this Foreign Policy article and specifies the correct markup so the photo renders properly in the Instant Article. The photo expands to fill the screen when tapped and allows exploration by simply tilting the phone.
The plugin "also supports native autoplay video as well as social and interactive graphic embeds," Facebook said.
In its own post, Automattic explained that anyone using the Instant Articles plugin will have to undergo review by Facebook to ensure their pages are "properly formatted and adhere to their community standards and content policies before you'll be able to start pushing content to the platform."
Instant Articles will be available to anyone starting April 12, when Facebook holds its annual F8 developer conference in San Francisco. Hundreds of publishers are already publishing on Instant Articles.
Facebook similarly encouraged developers to contribute to the plugin's development on Github. Itnotes that the "plugin is still in early stages and the underlying APIs (like filters, classes, etc.) may change."
Facebook has continued to tweak Instant Articles as it receives feedback from news organizations already using the product. Facebook now lets publishers solicit email newsletter signups in Instant Articles, and in December the company made it easier for publishers to generate ad revenue from Instant Articles.
"The biggest stumbling block with Instant Articles was that we were making less there than with visits to our own site," Joe Speiser, co-founder of LittleThings.com, told The Wall Street Journal. "We are now seeing parity with our mobile Web version."