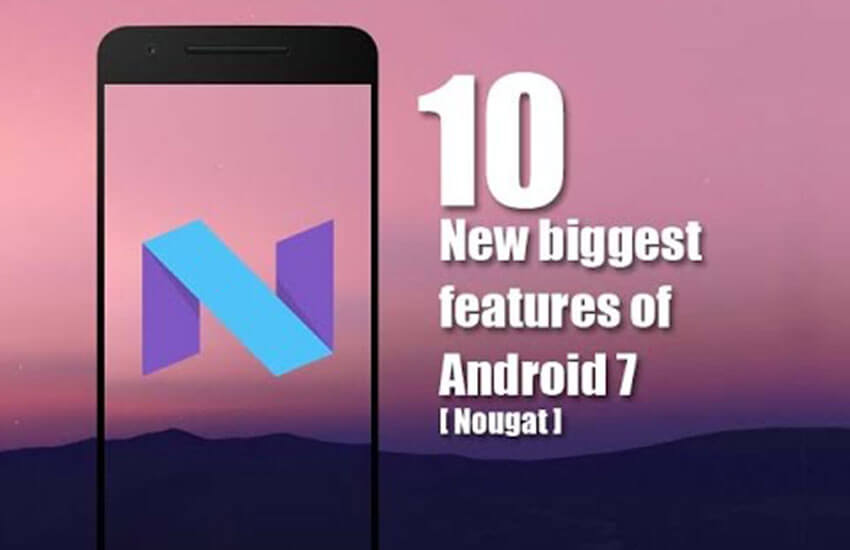 Nougat comes with a number of big changes over Marshmallow, the last Android OS.
Better battery life thanks to the new-and-improved Doze Mode.
Android introduced Doze Mode with Marshmallow to save your device's battery life. When your screen was off and your phone wasn't moving, your phone would burn less battery. But the trick was that your phone had to be physically stationary for Doze to work–you couldn't, for example, be walking to work with your phone bouncing along in your pocket. Now, with Nougat, Doze starts up as soon as your screen goes off and will still work even if your phone is moving. As with Marshmallow, Doze comes automatically baked into Nougat so there's nothing you need to do to enable it.
Revamped notifications.
The look, feel and use of notifications are all different in Nougat. Notifications are wider and fill the entire screen, and there's less space vertically between each notification. Depending on the app, you can tap some notifications and do a direct reply rather than having to completely open up the app. Messenger and Hangouts in particular come with new, more useful quick-reply options.
Split-screen use.
Now you can use more than one app in a single screen. Just open one app you want to use on your screen, then press and hold down the square-shaped overview button at the bottom right to choose from other apps to add to screen. With Nougat, now you can, say, have Google GOOGL -0.60% Maps and Spotify both open on the same screen without having to flip back and forth between the two. Not all apps support split-screen mode yet, but most do.
New use for the overview button.
Speaking of the overview button, it now has a slick new feature. By double-tapping the button you can now quickly navigate back to whatever app you were previously using. Like split-screen mode, this ability to flip back and forth between apps will have huge appeal to power users, and shows that Google realizes more and more users want to multitask on their phones.
Better toggles.
Say good-bye to third-party toggle widgets. Now, Android has its own built-in toggles (also known as the quick settings menu) that sit right above notifications. To access, just swipe down from the top of your screen. The new toggles include handy things like WiFi, Bluetooth and Do Not Disturb. Android also gives you some (limited) choice over what toggles you want to appear. You'll have two toggle menus, a quick one that appears when you swipe down and then a complete menu with all available toggle when you tap the down arrow at the top right.
Revamped Settings Menu.
The upper right corner now has a search button to let you dig through your system settings more easily. You'll also see certain key settings in little notifications at the very top, such as if you have Data Saver turned on, if you're using cellular data or not and if you're in Do Not Disturb mode.
File-based encryption
Previous Android operating systems have encrypted your phone using full-disk encryption, where your phone basically gets encrypted as one giant unit. Now, your phone will get each file individually encrypted, making for a more robust security system.
"File-based encryption better isolates and protects individual users and profiles on a device by encrypting data at a finer granularity," according to the Android Developer blog. "Each profile is encrypted using a unique key that can only be unlocked by your PIN or password, so that your data can only be decrypted by you."
Quicker system updates.
Android is making system updates run faster in the background on your device. Install times will be quicker, update file sizes will be smaller and your other apps will optimize for the update more quickly.
Direct Boot.
Google has changed Android's underlying encryption scheme so that some apps can boot before you even enter your device PIN. "Now your phone's main features, like the phone app and your alarm clock, are ready right away before you even type your PIN, so people can call you and your alarm clock can wake you up.
Data Saver.
Apps that run in the background can burn through your monthly data really quickly. With Data Saver, however, Nougat lets you keep apps from running in the background unless you're on WiFi, saving your precious data plan.