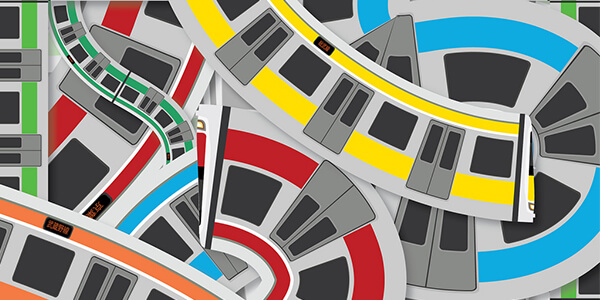 Adobe Illustrator is software for anything and everything design-related.And while it's easy to assume that the program's primary focus is illustration based on the name, there is so much more to this design software.
With tools for type, color, photo cropping, image tracing, drawing, and much more, it has innumerable benefits for bloggers and business owners, alike.
Logos
While programs like Photoshop work with raster images (which are made up of pixels), Adobe Illustrator creates vector graphics (which are created with mathematical logarithms). Unlike raster images, vector graphics can be sized to infinitely large proportions, which are ideal for creating logos.
Illustrator also makes it easy to manipulate text, change colors, add illustrations, and stick to a grid – all of which are important for creating a strong logo.
Sidebar buttons
Custom buttons in your sidebar and other pages of your website are a great way to differentiate your blog/business, make your website more interactive, and add interest to your brand.
We simply used the ellipse tool to create each circle, drew some icons with the pen tool, eye-dropped my brand colors, saved the graphics as transparent JPEGs, uploaded them to my sidebar using Squarespace's gallery block, and added links to make them "buttons."
Infographics
Infographics are a great, engaging way to display information and data on your site. They are also highly sharable, meaning they're often pinned to Pinterest, mentioned on Twitter, and linked to on Facebook.
Adobe Illustrator gives you all of the necessary tools to create custom infographics for your business.
Blog post graphics
One fantastic way to set your blog apart and make it appear professional is to create cohesive, streamlined blog post graphics.
Not only are they more eye-catching in feed readers and on social media, but they're also much more shareable and have the potential to reach a wider audience.
Adobe Illustrator makes it easy to create custom graphics and allows you to create templates, which can save you time in the long run.
Sidebar advertisements
Whether you're advertising aspects of your business on your website or you're advertising about your business on another website, Illustrator is very helpful for quickly and easily creating a sidebar ad.
Size your artboard to the correct dimensions, place an image, add your logo, save for web, and you're good to go.
Promotional graphics
Giveaway items, product launches, business announcements – you want large events and promotions to gain attention, and a great way to do that is by creating branded graphics.
Adobe Illustrator allows you to do all of this easily by placing and cropping photos, adding text, and manipulating color.
Media kits
If you accept advertisers on your website or partner with other brands, it's often helpful to have a media kit available to provide your site stats, social media following, an overview of your average reader, etc.
You can easily set up a media kit in Illustrator, save it as a PDF, and email it to potential advertisers or collaborators when they inquire.
Photo cropping
Although Photoshop has more photo editing capabilities, Illustrator does allow you to make a clipping mask which crops images down to different shapes and sizes.
For example, the photo in the sidebar below was cropped by using a clipping mask in Illustrator.
Business cards
Why use a boring business card template when you create a custom design that blends in seamlessly with your brand?
Illustrator makes it easy to create and save business card designs for print.
Borders & Patterns
Custom borders and patterns can be created within Illustrator with the help of the grid, ruler, and brush tools. These can be used on your website, on custom forms, on business cards – again, the possibilities are endless.
We provide Best Adobe Illustrator training in Bopal, Ahmedabad.


Source:
Author: Lauren Hooker
Website: elleandcompanydesign.com